Building a castle is buckets of fun, so why not make a few with your kids during your Ocean Isle Beach vacation this summer? All you need are sand, water, a few household items, and some helping hands. Don't worry, we'll provide the sand, pristine beaches, and beautiful Carolina sun. What more could you ask for?
The tools you'll need for making a magnificent sand castle are cheap and easy to find. You might even have many of the tools of the trade laying around the house or kitchen. Here are the basics:
Shovel for scooping and packing
Small bucket for shaping towers
Paint stirrer which are great for sketching shapes
Measuring spoons and melon baller for making windows
Spatulas for smoothing and creating shapes
Large buckets for hauling water and building
Have A Plan
Before you start it's a good idea to have an idea of what you want to build. Of course, this might be like herding cats with the really little ones in the family, or it might be an excellent way to give them direction. Either way, for the serious sand castle builder having a plan is an essential first step.
Follow These Easy Steps For Success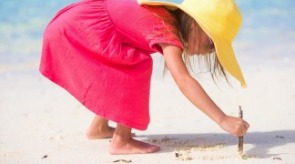 Advanced Techniques and Tips
Use A Butter Knife
Butter knives have nice round edges, are safe for the kids, perfect for cutting finer details, and they don't remove too much material at one time.
Find Interesting Molds
Hit the hardware store and look for different size buckets, interesting containers, and even PVC pipe to give you more design features.
Set Up Near The Waterline
The sand near the waterline is firmer and will provide better support for your castle. Just don't get too close.
Looking to find your actual Ocean Isle Beach vacation castle? We can help. From oceanfront to canal front we have a large inventory of homes from smaller condos to large homes for big parties. Give us a call today at 800-727-9222 or click the button below to find the perfect vacation castle for your family.
Did you make an amazing Sandcastle? Share your secrets by leaving a comment below.